Pharmaceutical Venture Capital Support
Burt Consultancy provides pharmaceutical Venture Capital support to companies sponsoring drug development. Such Venture Capital support is most commonly provided at the IND stage.
At this first-in-human (FIH) phase the stakes are high and reliable data are difficult to come by. Most data at this stage are based on preclinical animal data (in-vivo), isolated human tissue data (in-vitro), or modeling that combines them. As drug treatments become more human-specific, the value of preclinical data risk being degraded. Hence the need for human-specific data to help select the lead candidate from multiple preclinical candidates. This is where Phase-0 including microdosing studies can help.
Venture Capital are usually keen to terminate failed drugs as soon as possible. This is particularly true in clinical development where progression means increasingly larger and more expensive studies. At the same time Venture Capital are aware of the considerable increase in value of the drug asset as it enters human testing. The value of the asset can increase up to a 100-fold or higher with human testing. Phase-0, including Microdosing studies are safer and therefore quicker and cheaper FIH studies.
They allow quick termination of non-viable drug candidates. Alternatively, if no negative findings are identified, these approaches considerably increase the value of the asset. In addition, Phase-0 approaches allow testing in patients at the FIH stage. This may provide patient data up to 2.5 years prior to traditional approaches. In other words, Phase-0 including Microdosing approaches provide quick Venture Capital support to make key developmental decisions at high-stakes phases of clinical development.
It would be reasonable to assume that these same principles would be readily followed by mainstream pharmaceutical industry. However, these 'truth-seeking' strategies often are in conflict with a culture that encourages moving an asset forward in development. Such 'progression-seeking' culture is encouraged through incentive structures in many industry entities. It has been reported extensively in the literature with some companies already applying corrective measures (Cook et al., 2014, Lendrem et al., 2015, Peck et al., 2015, Morgan et al., 2018).
Burt Consultancy provides Venture Capital support also in other stages of development. This is usually done wherever a high-stake opportunity is presented that can be paired with strategic testing leading to decisive go-no-go decisions. The portfolio section of the Burt Consultancy website includes several examples of such strategic testing and opportunistic decisions.
Below is an examples of one Venture Capital decision support tool used at Burt Consultancy. The tool outlines all the main potential permutations a test's outcomes and assesses their probabilities and developmental value. In this case, the test aims to find whether the drug passes the Blood Brain Barrier (BBB). The tool is first used to asses the feasibility of a potential test. And if the text is executed - the tool is used to assess the probability and developmental value of the outcomes.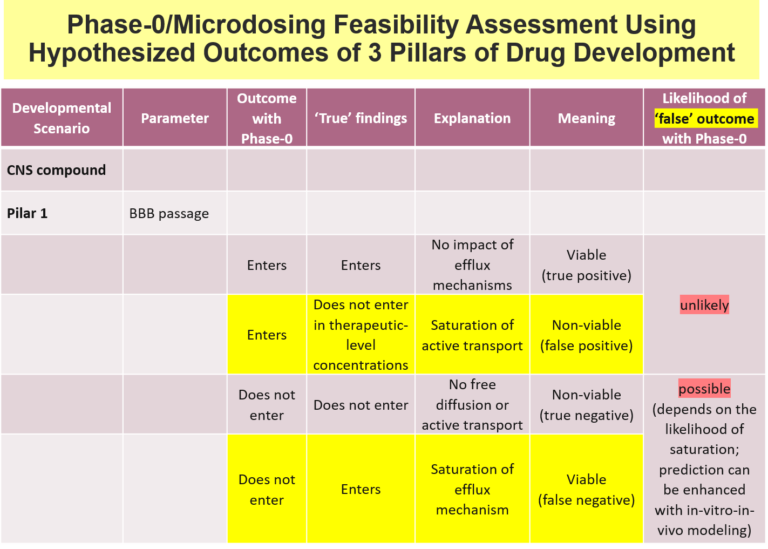 Cook, D., D. Brown, R. Alexander, R. March, P. Morgan, G. Satterthwaite and M. N. Pangalos (2014). "Lessons learned from the fate of AstraZeneca's drug pipeline: a five-dimensional framework." Nat Rev Drug Discov 13(6): 419-431.
Lendrem, D. W., B. C. Lendrem, R. W. Peck, S. C. Senn, S. Day and J. D. Isaacs (2015). "Progression-seeking bias and rational optimism in research and development." Nat Rev Drug Discov 14(3): 219-221.
Peck, R. W., D. W. Lendrem, I. Grant, B. C. Lendrem and J. D. Isaacs (2015). "Why is it hard to terminate failing projects in pharmaceutical R&D?" Nat Rev Drug Discov 14(10): 663-664.
Morgan, P., D. G. Brown, S. Lennard, M. J. Anderton, J. C. Barrett, U. Eriksson, M. Fidock, B. Hamren, A. Johnson, R. E. March, J. Matcham, J. Mettetal, D. J. Nicholls, S. Platz, S. Rees, M. A. Snowden and M. N. Pangalos (2018). "Impact of a five-dimensional framework on R&D productivity at AstraZeneca." Nat Rev Drug Discov 17(3): 167-181.